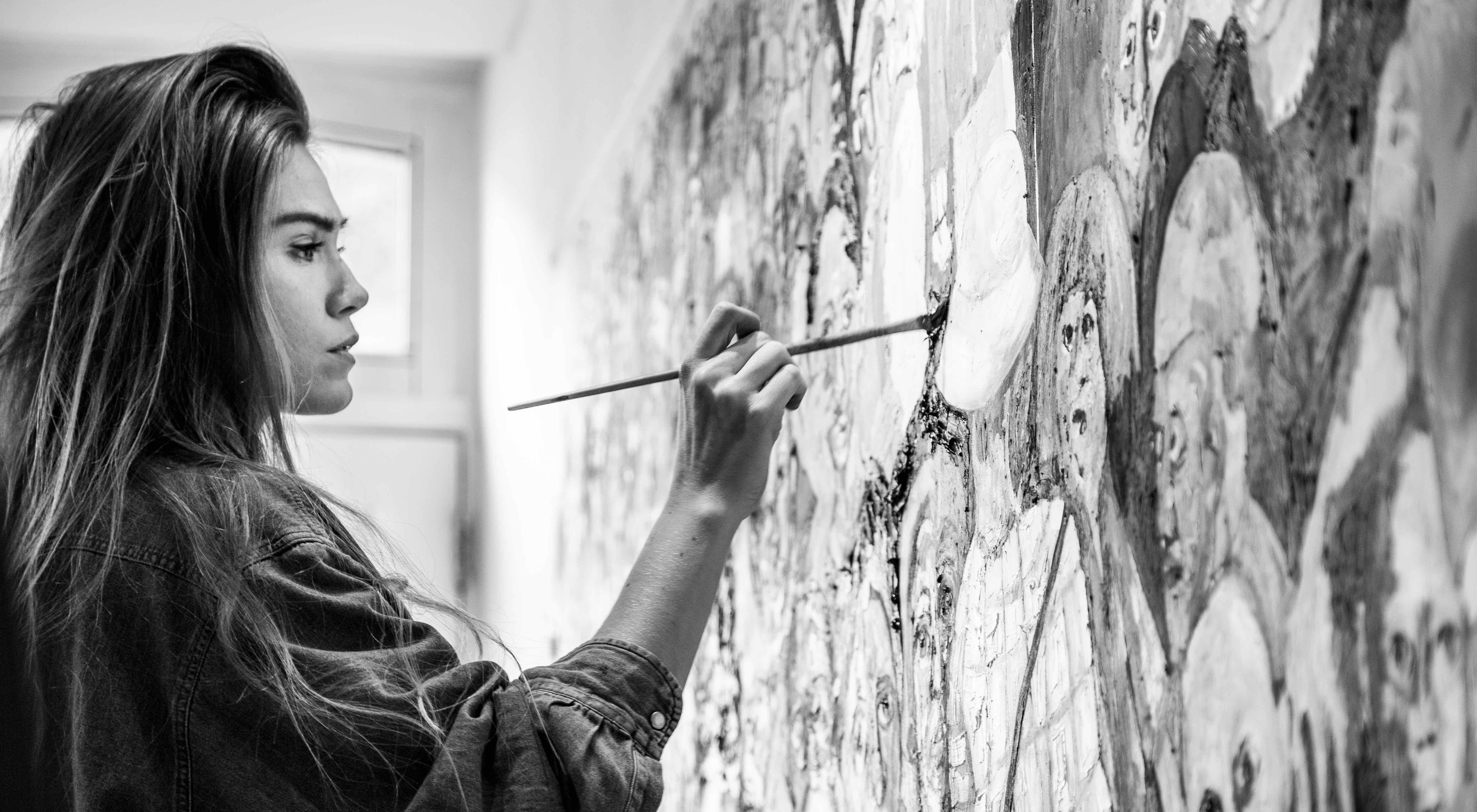 Nederlands
 

Gewapend met een schetsblok, een observerend paar ogen en een niet te stoppen nieuwsgierigheid, gaat kunstenares Jade van der Mark (Bergen, 1990) op pad in de stad. In de normaliter drukke straten observeert zij vanaf een afstand alle voorbijgangers, en gaat met behulp van haar verbeelding op zoek naar de verhalen van deze toevallige passanten. Hierdoor ontstaan er weer nieuwe verhalen, waarbij concepten als massaconsumptie, (over) populatie, diversiteit en de gehaastheid in het leven slechts enkele van de terugkerende thema's zijn.
Van der Mark voltooide aan de Koninklijke Academie van Beeldende Kunsten in Den Haag de opleiding Textiel & Mode, na eerst kortstondig te hebben gestudeerd aan de Amsterdamse Gerrit Rietveld Academie en aan ArtEZ Academie voor Art & Design in Arnhem. Gedurende haar studietijd heeft zij als stagiair werkervaring opgedaan bij Victor & Rolf. In 2016 kreeg van der Mark tijdens de Milan Fashion Week de Dutch Fashion Award voor de creativiteit waarmee zij schilderijen verweefde tot draagbare kunstwerken. Sinds 2017 legt zij zich volledig toe op de schilderkunst.
In kleurrijke, dikke lagen olieverf, aangebracht op doeken van forse afmetingen, geeft Van der Mark gestalte aan een wereld waarin massaconsumptie, (over) populatie, diversiteit en isolement de boventoon voeren. De met lef aangezette kleuren, de uitbundige dynamiek en de veelheid aan gezichten op haar doek vormen een schrijnend contrast met het isolement dat er desondanks doorheen breekt.
"We leven in een tijd die ons door de opkomst van technologie in staat stelt meer met elkaar in verbinding te staan. Het resultaat is echter dat deze technologie ons onverschillig en apathisch maakt en echt contact een zeldzaamheid aan het worden is. Met mijn werk hoop ik te bereiken dat we hier serieus bij stilstaan."
Om haar werk substantie te geven bouwt Van der Mark een stevige structuur van dikke, afzonderlijke lagen verf. Omdat het wel een week kan duren voordat een zo'n laag droog is, gaan er weken en soms maanden heen met het maken van een enkel schilderij. Bovendien brengt zij, met het verstrijken van de tijd, steeds kleine correcties aan waardoor ook veranderende inzichten aan bod kunnen komen. Een handeling waarmee van der Mark aan lijkt te geven: niets ligt vast – de weg is het doel.
Haar werken zijn niet onopgemerkt gebleven. Zo heeft van der Mark solo-exposities gehad in het ING Hoofdkantoor (Amsterdam), (Londen), de KLM Open en in Milaan. Tevens participeerde van der Mark in groepsexposities in Nederland, België, Italië en Londen. Dit heeft ertoe geresulteerd dat haar werk is aangekocht door kunstliefhebbers uit vele delen van de wereld.
Jade van der Mark woont en werkt afwisselend in Amsterdam en Londen. 
English



"I am painting all the dark subjects of society in color, for every human being there is a role on my canvas." – Jade van der Mark

Jade van der Mark (Bergen, the Netherlands, 1990) is a Dutch Contemporary figurative painter. Based between Amsterdam and London, she is a self- taught female painter that explores contemporary and examines the dichotomy of crowds and human intimacy.

Her large-scale group portraits of cities' inhabitants highlight issues of overpopulation, greed, burnouts and oppression. The colourful and lively figures remind us of a shared humanity. Thereby, the works are a colourful reflection on the fast-paced city lives of the city's people. Each work is telling the story of strangers, who don't know they're being painted, but are brought together to create a unified story of our world.

In her works, van der Mark uses cities and crowds as a source of inspiration, sketching in the heart of the capital and documenting the vibrancy of urban life. Her large-scale portraits of cities' inhabitants highlight issues of overpopulation, isolation, greed and oppression, while through colourful and lively figures her works remind us of our shared humanity. Playful but profound, her paintings make the mundane vibrant and beautiful, with an edge of melancholia.

With the use of thick coats of oil paint, the Dutch painter gives life to monumental textured canvases, rich in detail and complexity and majestic in size. The use of bold and abstracted colour palettes conveys a sense of sculptural depth, amplifying their gravitas. As each layer may take up to a week to dry, van der Mark's paintings are the result of a laboured process lasting up to eight months. Containing multiple stories, which over the course of completion have been altered or painted over, her works unveil hidden narratives that encourage deeper reflection.

Diving into diverse identities, van der Mark reveals a vast network of personal stories that share the same spaces but lack connection. Colourful figures are representative of the artist's belief in a shared humanity. Set in decontextualized city spaces, van der Mark's paintings speak to an overwhelming sense of disconnect that resonates globally. Her works depict crowded scenes, where figures are frozen in the chaos of rush hour, their stress and exhaustion evident in their expressions.

The attention to texture is crucial to van der Mark's practice as a whole, which combines a passion of painting with an education in Fashion, obtained at the Royal Academy of Arts in The Hague. A self-taught weaver, she weaves her paintings into elaborate and distinctive items of clothing, works of art in and of themselves. During Milan Fashion Week 2016 she was awarded the Dutch Fashion Award for her exceptional designs.Since 2017, van der Mark has been completely focused on painting.

Van der Mark has showcased and sold her works widely in the Netherlands and internationally, exhibiting in Amsterdam, Brussels, London and Milan. This includes a solo show at ING Headquarters in Amsterdam and participation in Salone Mobile Design Week in Milan and a solo exhibition at Pi artworks gallery in London.